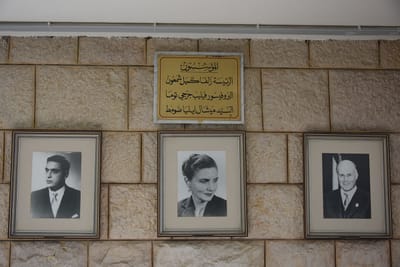 In 1953, former First Lady of Lebanon Mrs. Zalfa Camille Chamoun, assisted by Dr. Philip Thomas and Mr. Michel Doumet, founded the Lebanese Society for the Blind, which later became the Lebanese Society for the Blind and the Deaf. The Lebanese government offered a parcel of land in Hadat - Baabda and many Lebanese immigrants living abroad donated generously towards this all important project.

In 1957, the society founded the First National School for the Blind and the Deaf in Lebanon, to become one of the Middle Eastern leading educational and vocational centers via its commitment to provide blind and deaf students with priceless opportunities to achieve their independence, find suitable jobs and become contributing members of their communities.

Dr. Philip Thomas was elected the first President of the Society's Board of Trustees and stayed in this position from 1953 till his death in 1983. He was succeeded by Dr. Iskandar Hitti, who served until 1987. Dr. Joseph Ashkar followed and served until 1990. Mr. Gabriel Thomas then became President until the year 2000, followed by Attorney Pedro Ghannam who served aiming at the school's constant progress, until his death, in 2009. Mrs. Laure Doumet was elected to succeed him until her passed away in 2021 and is currently succeeded by Mrs. Jeanette Chamoun as president of the society.
Mrs. Wadad Lahoud was appointed school principal since the school's inception and performed her duties with utmost dedication, professionalism and care until 2014. She was succeeded by our current school Principal Mrs. Marie Rose Bourji-El Gemayel, who is continuing the mission.